Well, how lovely.  Really drives home what Katya was saying the other day about each of our covers telling a story.  Perhaps the best thing about all of this is that, thanks to the weirdly warming invention that is the world wide web, we are able to read the ending of pahness' story for ourselves.  Makes you feel all fuzzy inside, doesn't it?
 In other covers-related news, we're currently getting our Spring 2008 catalogue together – I still boggle at the fact that everything in this industry has to be decided roughly seventeen years in advance – so there's been plenty of umming and ahhing over pretty pictures in the office.  Needless to say, Katya's done us proud, once again. 
I recently came across another pleasant surprise lurking in a distant corner of the blogosphere, thankfully reported to me by Google Alerts.  For those who, like me, already have 47 browser windows open:
…this past week while discussing my ongoing short story project (I think I've mentioned that I am trying to gain a better understanding of why I, and so many other readers, struggle with short stories) I mentioned to my co-worker, a former librarian, that the short stories of Virginia Woolf are nutty. More so than her novels that I love. He marched upstairs in the library to find a copy of her "Monday or Tuesday" collection and he returned with a gorgeous edition that I'd never seen. After a little research we discovered this wonderful publishing company called the Hesperus Press. I was, of course, interested immediately by the name–I assume taken from Longfellow's great poem, and the subtitle on their website, "et remotissima prope" (from the latin–to bring near what is far). After perusing their website both my co-worker and I were VERY impressed by the titles available and the beautifully designed covers. The England-based company has a limited, but impressive listing of books, all of which have great new forewords. My level of appreciation and awe for this company spiked as I read the last listing in their catalogue–"Zastrozzi." For those of you with no interest in literature, Percy Byshhe Shelly wrote two novels prior to publishing his works of poetry. His lesser known novels are not readily available, but Hesperus has his first, "Zastrozzi." Unbelievable.
 Well, shucks.  And thank you to Tara over at The Political Game . 
 May I also draw your attention to this debate on the Guardian Books Blog, about the apparent under-representation of gay fiction in UK publishing.  Some valid and thought provoking posts from both sides of the argument – I agree both that the dwindling number of independent and niche publishers (and the difficulties faced by those that remain) poses a threat to literary diversity, and also that books must be published on the basis of literary merit rather than any sort of positive discrimination.  Clearly, it's a very contentious issue, with the post notching up 40-odd replies.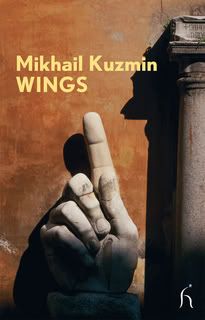 I'd like to point out, in my most sickeningly sycophantic voice, that Hesperus Press has recently published Wings by Mikhail Kuzmin, the only available edition in a brand new translation of the first Russian novel to focus on homosexuality.   It goes without saying, of course, that this title was chosen on the strength of its literary worth rather than the current focus on its themes, but we are nevertheless thrilled to be doing our bit to represent marginalised voices.
Ellie